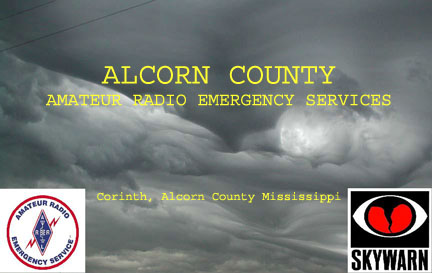 Tuesday Alcorn County ARES Net
All stations are invited to check in at 19:30 each Tuesday evening on the 147.285 repeater, 203.5 Hz tone.
In case of inclement weather, we will meet on the repeaters in the same manner to relay weather information between stations.

Please Join us at Roscoe Turner Airport.
ACARES meets the second Saturday of each month at 9:00am.


NORTH MISSISSIPPI SKYWARN MESSAGE BOARD
This group is for Skywarn storm spotters located in North Mississippi to exchange information regarding training classes, weather information, spotting information and techniques and other items related to the Skywarn program.
YOU CAN SIGN UP TODAY!
ECHO LINK - NODE 11932
K5WHB has installed EchoLink on the 147.285 repeater. This will let other repeaters from around the world equipped with EchoLink to link together using the internet. Download EchoLink today and use your PC to check into the net on Sundays or to report weather during an ACARES Net! In case of inclement weather Echolink can also be used to relay weather information directly to the National Weather Service in Memphis, TN.
updated 12/31/17

If you have any questions or comments,email webmaster.
KE5EFB@gmail.com (Bruce) or acares_05@yahoo.com